PITTSBURGH — It's not clear what criteria Amazon used to narrow a list of hundreds of applicants for its second headquarters down to 20 cities, but it's clear they like something about Pittsburgh.
City and county leaders were all smile Thursday after Pittsburgh was named one of those 20 finalists.
Pittsburgh joins cities like Philadelphia, Atlanta and Washington on the company's short list:
Atlanta, GA
Austin, TX
Boston, MA
Chicago, IL
Columbus, OH
Dallas, TX
Denver, CO
Indianapolis, IN
Los Angeles, CA
Miami, FL
Montgomery County, MD
Nashville, TN
Newark, NJ
New York City, NY
Northern Virginia, VA
Philadelphia, PA
Pittsburgh, PA
Raleigh, NC
Toronto, ON
Washington D.C.
"We had two press releases written, the good one and the not so good one. We're thrilled we were able to issue the right one," said Stephani Pashman, CEO of the Allegheny Conference on Community Development.
"It is no surprise that Pennsylvania's two world-class cities have made the shortlist for Amazon's HQ2," Gov. Tom Wolf said in a statement. "Pennsylvania's strategic location in the heart of the East Coast, nationally ranked educational institutions, and a workforce equipped to support future growth makes it prime for Amazon's second headquarters in North America."
WATCH: City of Pittsburgh releases heartwarming video for bid to lure Amazon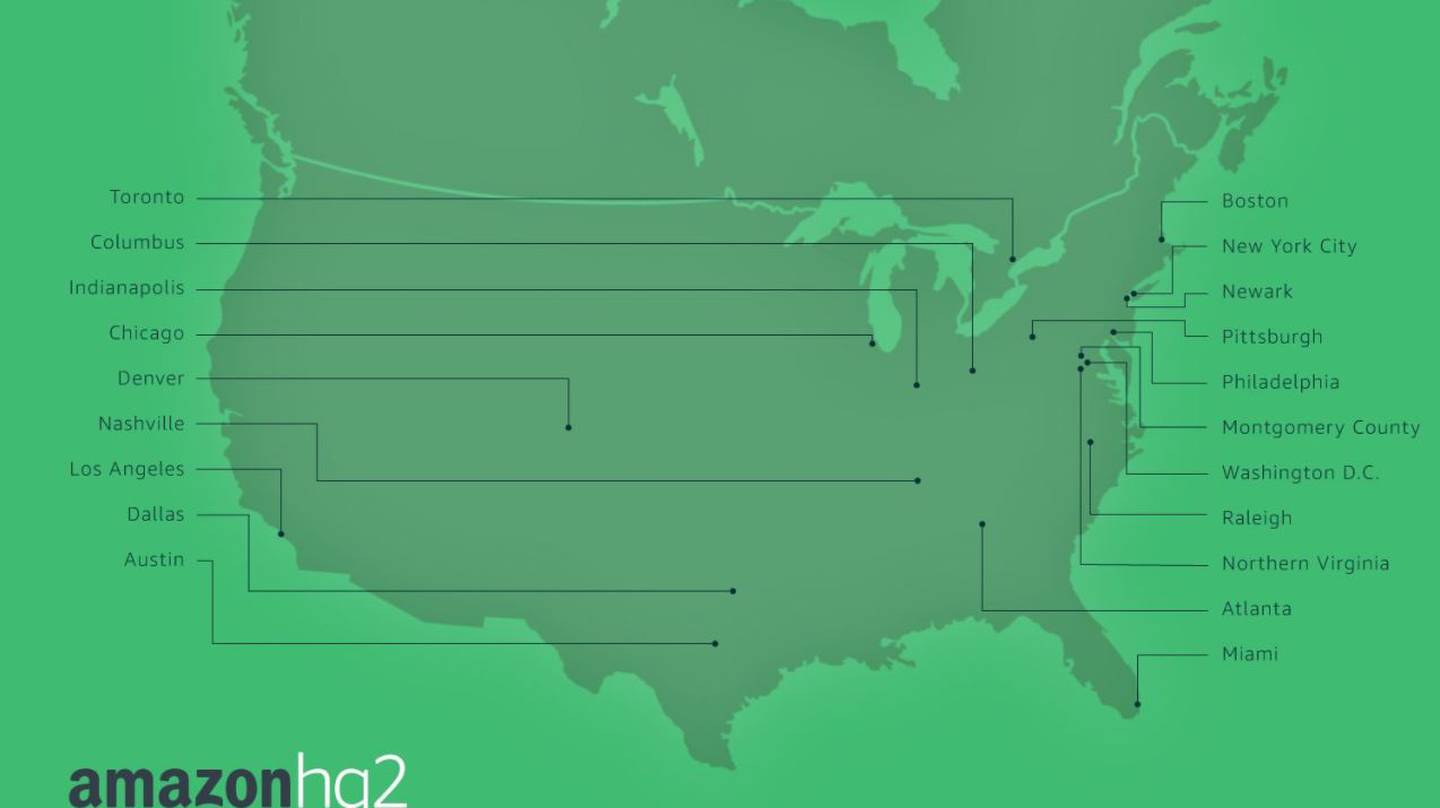 Pittsburgh's sales pitch is far from over. In announcing the top 20, Amazon said it will begin site visits to each city, assessing strengths and weaknesses.
"You think about 10 years ago, if we could have made this list. It's very unlikely," Pittsburgh Mayor Bill Peduto said. "This region has come so far in such a short period of time and still the best days are ahead of us."
RELATED STORIES:
Once again, officials declined to reveal details of the bid, including incentives offered to Amazon. But Peduto said it will all become public if Pittsburgh is selected, and the city will be flexible as it negotiates with the retail giant.
"I'm assuming with Amazon it will be a negotiation, it won't just be, 'Which application out of these 20 are we going to accept?'" he said.
Especially with 50,000 jobs and $5 billion in investments on the line.
TRENDING NOW:
"I think Pittsburghers should feel really good about where their city and region has come over the last few years," said Allegheny County Executive Rich Fitzgerald.
Amazon hasn't indicated when it will announce the winning bid, only saying it will happen this year.
Cox Media Group